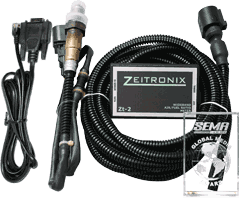 The Award Winning Zt-2 Model 2010 Wideband Datalogging System
The Zeitronix Wideband Air/Fuel ratio meter and datalogging system is a high quality, stand-alone system for use with carbureted and electronic fuel injection engines. Zt-2 Wideband Kits provide the best bang for your buck delivering unmatched quality, features and capabilities for very reasonable prices. Our system provides the accuracy of a Dyno Air/Fuel reading right in your vehicle as well as multiple engine parameters. Our base system is very easy to install and retails at $279 USD which includes the wideband oxygen sensor, controller, wiring hardware, and the software required to start datalogging and tuning immediately.

Supports Air/Fuel ratio as AFR/Lambda, plus RPM, Vacuum, Boost, Exhaust Gas Temperature, Throttle Position, 0-5 volt sensors, Air/Fluid temperature sensors and Oil/Fuel pressure sensors. Tune fuel injected and carbureted engines.
| | |
| --- | --- |
| Very simple installation - connect two wires to +12V and ground and place the O2 sensor in the exhaust stream and you are ready to read AFR! A simple LED indicator displays off, warm-up and running modes. | |
Cut your tuning time in half!

Click for a video of the Zt-2 Wideband System, LCD Display and Data Logging software.
The Best Wideband for your Tuning Setup
No matter if you have a stand alone engine management system, a piggy back fuel control or a carbureted engine, the ZT-2 Wideband Air Fuel Ratio Meter is a must for serious tuners! Finally you can tune for more power, closer to the edge, precisely monitoring Air/Fuel ratio Boost, EGT, RPM, throttle position and more. The Zeitronix Data Logger (ZDL) software can be utilized as a real-time display alongside the LCD Display,ZR-2 Multi-Gauge or the DashDAQ display with datalogging for up to 9 hours at a blazing rate of 65 samples per second per input.

On Board Diagnostics (OBDII) is not required but may be monitored through use of theDashDAQ II XL display which reads and clears engine error codes, logs Zt-2 Wideband data and OBDII data and has many additional performance features.


Dual channel AFR readings are available with multiple display and datalogging options supporting the ZR-2 Multi Gauge, LCD display,Black Box Data Logger and more.

Fail-Safe Operation
Add robust failsafe features using the ZAVT-1 Warning/Trigger Box and optional relay. The Zt-2 Wideband controller will monitor user set levels triggering the ZAVT-1 Warning/Trigger box and optional relay if one or a combination of values exceeds limits. Trigger a failsafe condition on any Zt-2 input including AFR, Boost, RPM, TPS, EGT, Oil/Fuel Pressure, Air/Water temperatures and more. Create a failsafe gauge with the Zt-2 controller watching both displayed values and any other connected sensors or inputs. This simple failsafe safeguard is a great way to protect your engine, hardware and time investment.


ZR-2 Multi Gauge with Zt-2 Controller
in a failsafe configuration using the
ZAVT-1 Warning/Trigger Box
.
---
Fully digital, smallest wideband O2 controller and datalogging system in the world!
Zt-2 is about the size of 1" thick business card. Extremely compact design for installation where space is a premium.
Zt-2 Specs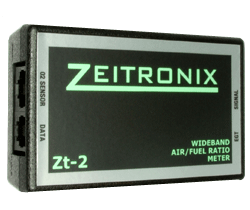 0.1 AFR accuracy
Operating voltage 10V to 18V
Switching power supply for oxygen sensor heater
Precise sensor temperature control
Reverse polarity protection
Integrated self-resetting fuse
Positive lock connectors
Protected inputs and outputs
Flexible Plug and Play Sensor Harness with a small, easy to route through the fire wall, connector
Wideband Oxygen Sensor included
Easy to install plug and play kit
Warning Alarms and Triggers
Inputs/Outputs:
Bosch Wideband O2 sensor Input
Linear Wideband Output AFR = Volts * 2 + 9.6
Serial data output to the Zeitronix LCD, ZR-1 AFR, and ZR-2 Multi-Gauge Displays
Serial data output for real time datalogging (PC laptop required)
RPM Input (tachometer, primary side ignition coil, crank, cam sensor).
The RPM input works in any car and any ignition system. No additional adapters needed!
Simulated and adjustable Narrowband Output to feed a stock ECU
Throttle Position Sensor Input
Boost (MAP) Sensor Input:
- 50 PSI (3.5 Bar) MAP Sensor, or 75 PSI (5.0 Bar) MAP sensor or
150 PSI (10 Bar) MAP sensor
Exhaust Gas Temperature (EGT) probe Input
User1 Input:
- 0-5 volt analog input. Voltage data is viewable on all models of the LCD display.
Software support for the display of Zeitronix pressure sensors.
- Customized data conversions can be entered to match 0-5 volt sensor specifications.
All converted User1 data values are displayed only in the software.
User2 Input:
- 0-5 volt analog input OR configurable to be used with Fuel/Oil/Boost pressure sensors and Air/Water/Oil/Transmission temperature sensors.
- Data is displayed on the 2010 Model LCD and ZR-2 Multi-gauge as a pressure or temperature.
- Zeitronix Data Logger software will display and log data according to sensor type.
- Customized data conversions can be entered to match 0-5 volt sensor specifications.
Customized data conversion values are displayed in the Zeitronix Data Logger software only.
Warning Output for use with ZAVT-1 warning/trigger box
5V output for sensors
Input / Output Range
Lambda
1.43 to 0.64 Wideband
AFR
21.0 to 9.5 Wideband
Vacuum
25.5 inHg (650 mmHg)
50 PSI (3.5 Bar) MAP Sensor
Vacuum to 35.3 PSI (2.4 Bar) pressure
75 PSI (5 Bar) MAP Sensor
Vacuum to 60 PSI (4.1 Bar) pressure
150 PSI (10 Bar) Pressure Sensor
0 to150 PSI Gauge (0 to 10 Bar)
EGT
392 F - 2200 F or 200 C - 1200 C
Analog Wideband Output
0 - 5V
Narrowband Output
0 - 1V (configurable rich/lean switching point)
Throttle Position
0 -100%
RPM
0 - 18,000
User1 Input
0 - 5V
(additional sensor display support through ZDL software)
User2 Input
(Zt-2 Model 2010 -- sold 10/15/2009 and later)
0-5V
Configurable: 50/75/150 PSI Sensors, Air/Fluid Temperature Sensors
Shown on LCD, ZR-2, nDash, ZDL
(additional sensor display support through ZDL software)
Warnings Output
0-5V, 4mA output (see ZAVT-1 for triggering additional hardware)
---
ZDL Datalogging Software
The Zt-2 communicates with a PC Laptop via the serial port (USB to Serial adapters may be used). The ZDL logging software records up to 9 hours of data per log file. May screen layout options are available including Dashboard, overlapped or non-overlapping plots with markers and text. The Zeitronix Data Logger software uses a black background for low profile easy to read night tuning. Logging start, stop and pause are accessible from easy keyboard shortcuts. Excel and text file data export available.

Win98/NT/2000/ME/XP/Vista/Windows 7 compatible.
You do not need P4, P3 or even P2 laptop. Leave your new laptop at home and dedicate the old one to car tuning. We give you well optimized software that will run quickly on any hardware capable of running Win95 and up. Download
Dashboard View
Overlapped Plots
and indicator lines
Individual Plots
Digital Display
Zeitronix Displays
Zeitronix offers both LCD Display and gauge style displays such as the ZR-1 AFR/Lambda Gauge and ZR-2 Multi Gauge, a Hacker/Tweaker AFR display and theDashDAQ touch screen display.

All displays offer clean and easy installation with power and data through a single wire connecting directly from the Zt-2 data port. No extra wires for power connections!

All displays install easily with included splitters allowing for up to 3 displays and simultaneous data logging.

Visit our customer gallery for a look at some Zt-2 Wideband and display installations, customer vehicles, videos and quotes.
---
Exhaust Gas Temperature (EGT) Sensor
Zt-2 reads exhaust gas temperature through a standard K thermocouple, the same as used by most aftermarket EGT gauges. You can retrofit your EGT probe with supplied Zt-2 style 2-pin connector or purchase a new probe from us. Moreover, we offer 8' chromel-alumel extension wire with the Zt-2 style connector in case you need to extend your EGT probe.
Why do I need an Exhaust Temperature Sensor?
Leaner mixture burns hotter giving you more power. Too much heat and things begin to melt. This is when your car is the fastest!. The Zt-2 is equipped with the EGT probe input. The LCD and logging software display the EGT information so take an advantage of it. We offer very economic, high quality, low mass, fast responsive EGT probe which plugs right into the Zt-2. This is a must if you are tuning the car for maximum power. You will be surprised how close to the edge you are running
You will need to tap the headers with 1/8 NPT tap.
Also see EGT Probe Installation Tips.

Boost MAP Sensor
Absolute pressure MAP sensors read from full vacuum so a 50 PSI range MAP sensor will read from -14.7 PSI to 35.3 PSI gauge pressure at sea level (a 50 PSI pressure range). Vacuum is displayed using the units inHg or mmHg.
The Zt-2's high resolution boost input in conjunction with a Zeitronix Boost Sensor is more accurate than most boost gauges.
3.5 Bar (50 PSI) MAP, 5.0 Bar (75 PSI) MAP, and 10 Bar (150 PSI) gauge pressure sensors are all supported on the Zt-2 Wideband boost input. See our web page for Zeitronix pressure sensors for additional sensor details.
NOTES:
The LCD Display, ZR-2 Multi Gauge and various other displays are option and not required for Zt-2 operation. Additional sensors such as the EGT probe, Boost/Vacuum (MAP) sensor, Oil/Fuel pressure, and Air/Fluid temperature sensors are optional and are also not required for Zt-2 operation. A minimal Zt-2 setup may be used with only an oxygen sensor connected for AFR/Lambda output, for instance to 3rd party engine management systems. For such application consider using the Zt-3 Wideband, which supports only AFR/Lambda sensor readings.

---
Items included with each Zt-2 Kit order:
Zt-2 Wideband Controller
Bosch 5 wire Wideband Oxygen Sensor
Oxygen Sensor Harness (10 feet length), *Substitute a 3ft or 20ft oxygen sensor harness.
Signal Harness
Serial datalogging cable with RJ-12 to DB-9 converting plug
Zeitronix Data Logger software
Instructions
2 pin connector for the EGT input
Optional items for Zt-2 Wideband Kits
Wideband LCD display, ZR-1, ZR-2 gauges, Hacker/Tweaker Display, DashDAQ Touch Screen Display
Boost/Vacuum (MAP) Sensor (50 psi/3.5 bar or 75 psi/5.0 bar MAP sensors)
EGT Probe
Fuel Pressure Sensor (150 psi / 10 bar Gauge Pressure sensor)
Oil Pressure Sensor (150 psi / 10 bar Gauge Pressure sensor)
Air Intake Temperature Sensor
Coolant Temperature Sensor
Oil Temperature Sensor
Transmission Temperature Sensor
ZAVT-1, Zeitronix Audio-Visual Warning and Trigger Box for failsafe operation